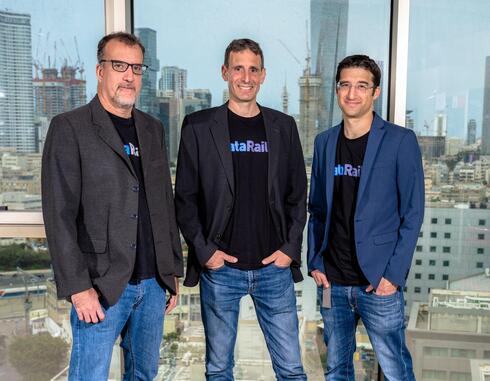 DataRails raises $50 million Series B for Excel financial planning and analysis platform
The Israeli company's solution provides real-time consolidation of disparate financial and operational data from across a company
DataRails, which develops a financial planning and analysis (FP&A) platform for Excel users, announced on Thursday that it has raised $50 million in Series B funding. The company's third investment round in the past 12 months was led by Qumra Capital and also included new investors La Maison Partners and ClalTech, as well as existing investors Zeev Ventures, Vertex Ventures Israel, Innovation Endeavors, Vintage Investment Partners, Oryzn Capital and Icon Venture. DataRails has raised $105 million to date and the new funding is set to be used to further invest in R&D as well as in sales and marketing, and to expand and support its customer base worldwide.
DataRails was founded back in 2015, but its CEO Didi Gurfinkel explained to Calcalist that its major breakthrough came over the past couple of years. "When we founded the company we wanted to solve the Excel problem with this being a personal tool which the organization doesn't know how to handle. We wanted to build technology that knows how to leverage Excel and we started selling to organizations a platform that combines Excel sheets. This didn't take off quickly so two years ago we pivoted and built a new product with our technology, and the company essentially started from scratch," explained Gurfinkel.
"Our previous round was in June 2021 and this round was raised entirely during 2022. I felt this time that people wanted to hear a lot less about the dream and want to see the models we built in the past succeeding in the future. We are very grounded and are efficient in our growth. All the money we have raised will be used for sales, marketing and customer support employees. Our only competition is Excel itself," Gurfinkel added.
DataRails offers teams in small and medium-sized businesses the advantages of Excel, but with the benefit of a cloud-based centralized database allowing real-time consolidation of disparate financial and operational data from across a company. This eliminates hours of manual gathering and consolidation of data for staple reports including budgets, P&Ls, balance sheets, and month-end reporting. Based on AI and Machine Learning capabilities, the DataRails solution provides real-time financial consolidation and advanced data visualization, through intuitive and simple implementation.
DataRails was founded in 2015 by Didi Gurfinkel (CEO), Eyal Cohen (COO), and Oded Har-Tal (CTO). The company currently employs 180 people in its offices in Israel and the U.S., a six-fold increase from just one year ago.