Gaming Gateways
Game On: How gaming is transforming Israel's startup ecosystem - and the world
This year, the gaming sector is set to make more than the movie and sports industries combined. Here are some of the Israeli superstars leading the sector
The gaming industry may not be at the forefront of most people's minds, but its sturdy and loyal fanbase has made it to be one of the biggest industries on the planet. In a year dominated by Covid-19, the global gaming industry's 2.7 billion gamers will help account for more than $165 billion generated around the world - more than the movie and sports industries combined.

The Israeli Gaming Gateways:

Raz Friedman: Playtika's gaming visionary

Tomer Bar-Zeev: Connecting players across platforms

Vered Pnueli: a leading female figure in the gaming world

Eitan Reisel: From Googler to Gamer

Guy Ben-Dov: Levelling up Israel's gaming industry

Eze Vidra: The investor every gaming entrepreneur needs to impress

Sagi Schliesser: Israel's casual gaming king

Like with most booming sectors, Israel's innovative minds are front and center of the revolution. Today, mobile gaming makes up the majority of the industry - $85 billion - and many of the budding entrepreneurs in Startup Nation have found ways not just to enter the market, but to help transform it into what it is today.

According to Nir Miretzky, the former CEO of Israel's Digital Games Industry Association, GameIS, the country has more than 360 companies supporting the gaming ecosystem in Israel. Made up of more than 8,000 employees, it is still a fraction of the employees in Startup Nation's overall tech ecosystem, which comes to roughly 320,000 people. Despite the small size of employees, the numbers speak for themselves.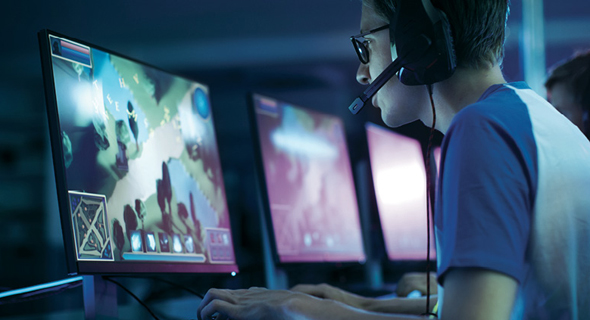 A gamer playing a videogame. Photo: Shutterstock

According to GameIS, the local industry saw $1.5 billion in revenue in 2017, which grew to $1.8 billion in 2018 and $2.5 billion in 2019. It is estimating that the revenues for 2020 will grow to $3.5 billion - no doubt due to more of us staying at home due to Covid-19.

One prominent member of Israel's gaming ecosystem includes CrazyLabs, a mobile game publisher responsible for more than 3 billion app downloads across 500 of its addictive games, according to Game World Observer. Founded in 2010, it today has 110 million unique monthly users.

Another company, Playtika, was acquired by Giant Interactive for $4.4 billion in 2016 and has a total of 10 mergers or acquisitions as it builds its gaming empire straight out of Israel. One of CTech's Gaming Gateways, Raz Friedman, helped establish Paytika's own Playtika Growth Investments responsible for finding and investing in the future of gaming. It is estimated that Playtika will reach a massive $10 billion valuation when it goes public.

Entrepreneurs aren't just flocking to gaming studios in the hopes to make big bucks. Another major player in the industry, Eitan Reisel, was the first to establish Israel's first VC fund dedicated to gaming. His firm, VGames, has a $30 million fund that it uses to invest in Israeli games studios at the pre-seed and seed stages, supported primarily by its main investor, Viola Ventures.

"Israel is becoming the global leader in games," he told CTech. "Aside from cybersecurity, you don't see as much success with unicorns and multi-billion dollar companies under one category."

As Covid-19 joins us in 2021, it is clear that the gaming industry will continue to grow and thrive. People may not be tapping away on their daily commutes anymore, but it doesn't mean that they won't plant some crops or throw some pigs in an attempt to tap into some old-fashioned escapism.

And for Israel's gaming ecosystem, it's a billion-dollar distraction.