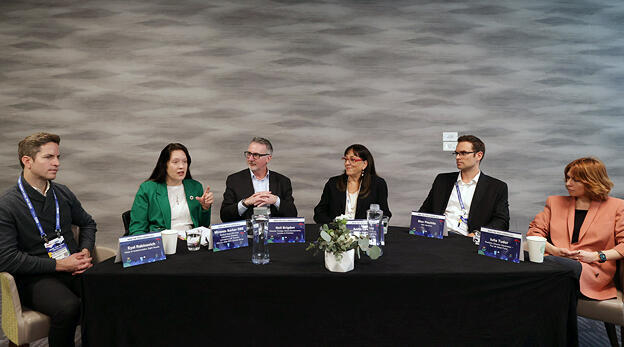 Mind The Tech London 2023

"There are many opportunities for Israeli companies in London"
Attorney Anita Leviant, president of the Israel-Britain Chamber of Commerce and Innovation, which hosted a roundtable as part of the Mind the Tech London conference, noted that "investors in this period will be more careful and selective"
"In a situation of uncertainty, every company needs to know which market to choose and diversify its sources of financing," said attorney Anita Leviant, president of the Israel-Britain Chamber of Commerce and Innovation at the Calcalist and Bank Leumi Mind The Tech conference held in London. Leviant, who moderated the panel, noted, "in light of the global difficulty in raising investments, it is important to know additional tools for financing and the British market offers diverse and unique sources, such as the British Business Bank, funds that pool investors who benefit from government programs to grant significant tax benefits for investments in tech companies, angel associations, and more."
Neil Brigden, investment director at London & Partners, said that "Our job is to promote London as a quality place for investments. We work with companies that are growing and looking for markets to expand. We want to show that London is the most suitable market and provide them with everything they need." Miranda Barker, chairman chief executive of Redcat, a platform for environmental tech solutions for industry, said in the panel, "We focus on identifying and promoting technologies that have an impact on environmental quality and ESG."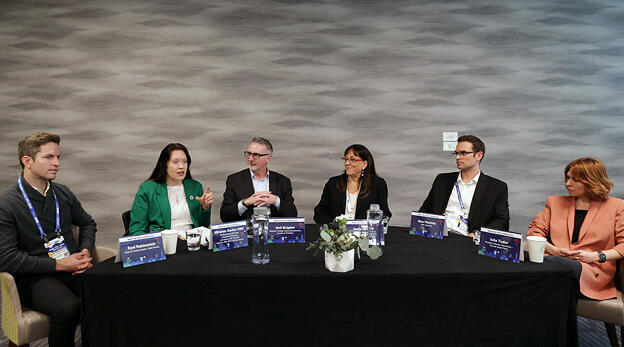 Stav Pischits, co-founder of Cyber Club London, added that they invest in early stage cyber companies. Iulia Tudor from Ascension, The UK Seed Fund, said, "We have many dozens of investments and exits, including a company purchased by Apple." Eyal Rabinovich, head of the Israeli desk at the Eight Roads investment fund, said, "We manage 11 billion dollars of capital in our fund and specialize in investing in late-stage companies. We have 500 portfolio companies with a focus on fintech, digital and other areas."
Brigden pointed out that England is a huge technology market and the third largest after the USA and China and it is twice the size of Germany and 5 times that of France. "This is one of the main reasons for choosing England and London is the natural choice because it is the center of all of this. We focus on attracting tech companies to London and focus on cyber, gaming, fintech, AI and several other areas. The field of digital health is also significant for us," he said.
According to Pischits, "There are start-up companies that find it very difficult to reach companies or even get a response, and there are investors most of whom do not have a deep connection to the field and need a connection to the market. We were looking to establish a device that would connect everyone. We connected various senior cyber executives at Tesco Booking and other well-known companies and senior executives from start companies -up and created an opportunity to connect everyone. We do not lead investments but join a venture capital fund that sets conditions and leaves room for corporate funds, angels and more. They want us as partners who come in with about a quarter of a million dollars and a connection to the market."
"If we have learned anything from the recent period, it is that innovation companies, which by their very definition constitute risk investments, are required to manage external risks and to be able to deal with it and react quickly in a dynamic and changing global business environment," added Leviant, "Investors in this period will be more careful and selective and therefore, it is important to have thorough preparation and prepare the company for raising the investment while understanding the set of expectations of the potential investor."