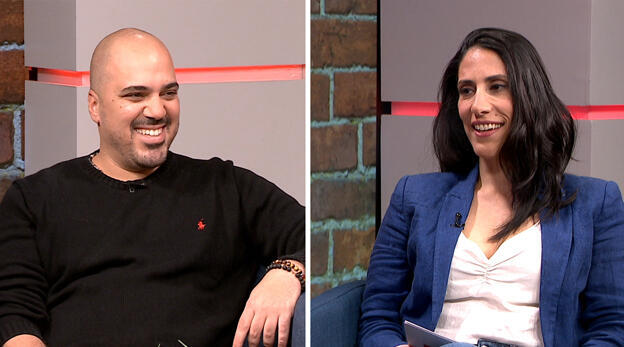 Mentor Class

WalkMe CEO: "A young company should try to conquer the world"
Tal Niego, Co-Founder and Co-CEO of eHouse, spoke with Dan Adika, CEO and Co-Founder of WalkMe, about what keeps him up at night
"I think that a young company, especially in the early stages, should try to conquer the world," says Dan Adika, CEO and Co-Founder of WalkMe, in conversation with Tal Niego, Co-Founder and Co-CEO of eHouse. The two spoke as part of Calcalist's Mentor Class series for high-tech workers. The series brings together young entrepreneurs and high-tech industry executives who share their experience and their business and management vision.
Niego:
Dan, for those who don't know - give us a quick elevator pitch on what WalkMe actually does and some information about you or the company that no one knows.
Adika:
WalkMe is a platform that enables organizations to help people complete online processes. A very simple way to explain it is to think about how you got here today. For example, you entered the address into Waze and traveled from point A to point B. We do the same thing for internet systems. Someone wants to order a checkbook, or [show that they have] completed a process… or take a vacation day. We believe that you don't need more training, learning, remembering, or videos. WalkMe shows people - like GPS - how to complete every process.
When I moved to San Francisco, my friends and I established WalkMe. While we were in the middle of the chaos of establishing the company, we also created a falafel chain in San Francisco called 'Sababa'. It was a passion [project] as an Israeli [away from home], a Jerusalemite, with several friends and another Israeli chef. It's something that's always been associated with me, falafel, ever since my childhood in Jerusalem.
Niego:
How did you manage resources and manpower in the early stages? Is there a point where you felt like you had enough resources and could now conquer the world?
Adika:
I think this is something that entrepreneurs always feel, because our nature is to innovate, to do more. There's no need to get excited about that. It's good. Not having resources means that you've grown. There's no problem of stagnation here, that nothing is happening, just a desire to grow. I think that's a positive thing. There's no small role for anyone, everyone needs to do everything. When you grow, there's more order, more structure, and it's possible to hire someone for every role. But, I think for us, as entrepreneurs, you always feel that you can do something else. Unfortunately, the answer is no. You'll always feel that way, just on a larger scale.
Niego:
It doesn't go away. You just have to get used to it.
Adika:
It depends on where you are at the beginning of the journey today. We are at around $250 million in annual recurring revenue (ARR). I want to be at $5 billion, so I'm just at the beginning of the journey. When I was at $20 million, $250 million looked incredible. Every time you grow, things look different in perspective.
Niego:
I founded eHouse two and a half years ago together with Elad Goldenberg. We are building a platform for small businesses that sell physical goods online and provide them with a complete solution for the backend of their store. I think the thing that worries me the most is whether we are on the right path to product-market fit. What are your concerns? What keeps you up at night at your stage?
Adika:
What keeps me up at night is how we can become a billion-dollar revenue company, and what we need to do to get there. When you no longer know the people beneath you, and the people beneath them no longer know everyone, you need to build the company in a very procedural way. I don't want to turn the company into a corporation, but to keep it as a startup. So the challenge is to build the organizational culture correctly and keep the fire burning while growing.