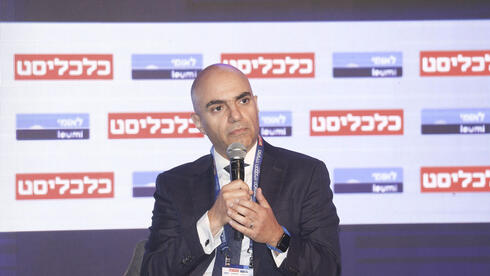 The National Economic Conference

"Let's champion what we can do here in Israel to scale things"
Sam Salman, Founder of Huminn, spoke at Calcalist's National Economic Conference about some of the ways Israeli companies can scale up to become giants
"We are very proud to be here, in the land of Israel, where those things that seem impossible elsewhere, are often possible here," said Sam Salman, Founder of Huminn at Calcalist's National Economic Conference. Speaking on stage, he outlined some of the work that the company is doing and why it is important that it comes to Israel to achieve its goals.
"The story of Huminn is based on our goal to look at the intractable challenges of humanity," he continued. "The challenges that have not been solved despite extraordinary efforts by governments, pharma companies, food companies, and so forth. We set out to try to organize a system to be able to innovate… Our purpose is to engage and organize innovation to measurably impact humanity and do so in a commercially viable way. This is in essence what we seek to do."
Huminn - which got its name by merging 'humanity' and 'innovation' - works with Israeli companies and institutions that have specialized in certain areas of innovation to make sure they have the best footing in solving some of humanity's most pressing problems. For example, it has partnerships with the Volcani Institute, part of the country's Ministry of Agriculture, to solve challenges that pertain to agriculture, nutrition, and more.
"Many of the members here and attendees here are part of the fabric of the Israeli ecosystem that is successful," Salman said when asked about Israel's ability to transform from a Startup Nation to a Scaleup Nation. "I'd like to give an analogy of the Olympic relay races. In a relay race, the start is vital. Companies from all around the world come to Israel because they know that to innovate, that spark happens here. They can get an advantage."
However, Salman continued the analogy and stressed the importance of 'passing the baton' to the right person who can continue to carry that Israeli spark. "It often gets passed to a non-Israeli champion. And that champion then leaves it and passes it on. I view us, here in Israel, as having an opportunity to instead of passing it on to another external party, let's champion what we can do here in Israel to scale things. And this we view as the goal of the innovation system here - to finish the race all the way with our own baton."
You can watch the entire exchange in the video above.
First published: 16:16, 11.07.22