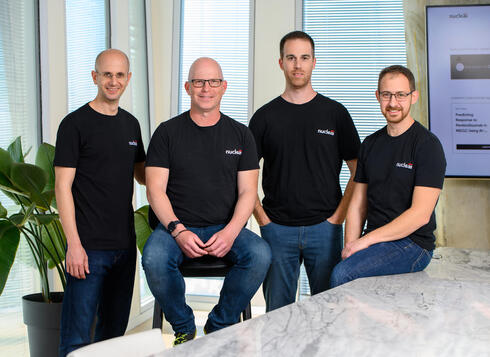 Nucleai raises $33 million for spatial biology drug development platform
The technology developed at the Israeli startup allows better prediction of the patient's response to specific oncological treatment, saves on the ongoing process of testing different drugs and improves the chances of the development of new cancer drugs
Spatial biology startup Nucleai announced on Tuesday that it has raised $33 million in Series B funding. The current round was led by Section 32, a VC fund in the medical world established by the former CEO of Google Ventures, Bill Maris, along with Sanofi Ventures, the corporate venture capital arm of Sanofi. In addition, the company's previous investors participated in the round: Debiopharm, Fosun RZ Capital, Vertex Ventures Israel, and Grove Ventures, alongside private investors. The current round brings the total investment in the company to $50 million. Dr. Michael Pellini, a managing partner of Section 32, will be added to the company's board. He was the CEO of the genetic diagnostic company Foundation Medicine, which was sold to Roche in a multi billion dollar deal in 2018.
Nucleai was established in 2018 and is led by Avi Veidman, Eliron Amir, Lotan Chorev and Albert Achtenberg, who set up and managed the AI computer vision department in the Israeli military's Intelligence Corps. The company is located in Tel Aviv, with offices in the United States, and employs 60 workers.
In recent years, immunotherapeutic drugs have revolutionized the treatment of cancer, and led to a significant improvement in the condition of oncology patients. However, these drugs are effective only for a small number of patients (about 20 percent). Without a reliable way to predict the effectiveness of the treatment, patients lose valuable time, insurance companies pay for the expensive and unnecessary treatments and drug companies suffer from multiple failures during clinical trials to develop the drug. The technology developed at Nucleai allows better prediction of the patient's response to specific oncological treatment, saves on the ongoing process of testing different drugs and improves the chances of the development of new cancer drugs.
"Nucleai's vision is to implement the use of our platform in every clinical trial which includes tissue and enable the development of more beneficial drugs for the patient," said Avi Veidman, CEO of Nucleai.
"We are seeing rapid adoption of our platform by most pharmaceutical companies in the world. The rich information available in biopsies is still analyzed today by doctors and microscopes in a way that has not changed significantly in the last 100 years. The revolution that has occurred in recent years in the field of deep learning allows us to change the way biological information is analyzed, to produce scientific discoveries that cannot be produced by manual means and actually change the treatment of cancer," Veidman added.