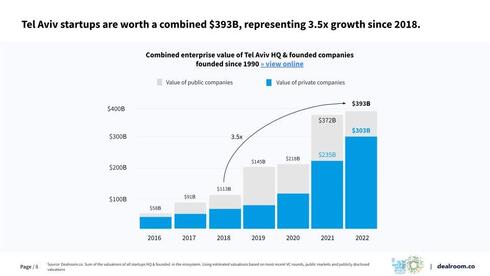 Tel Aviv has the fifth most unicorn companies in the world
Tel Aviv-based startups raised $6.9 billion in 2022, almost 2 times more than in 2020, according to a new international report
Tel Aviv is the city with the fifth most unicorn companies in the world based on research conducted by Dutch research company Dealroom and Tel Aviv Tech, an initiative by the Tel Aviv-Yafo Municipality. The report, based on data collected as of 2022, concluded that the high-tech sector in Tel Aviv is one of the fastest growing in the world despite the global economic slowdown.
The Tel Aviv tech ecosystem is growing faster than many of the top valued ecosystems worldwide such as Los Angeles and Paris, with startup companies based in Tel Aviv worth a combined $393 billion - more than a 3.5 increase in their value since 2018. Additionally, Tel Aviv startups raised $6.9 billion in 2022, almost twice as much as in 2020 and the city is ranked as the second-highest valued ecosystem in the EMEA region (Europe, Middle East and Africa).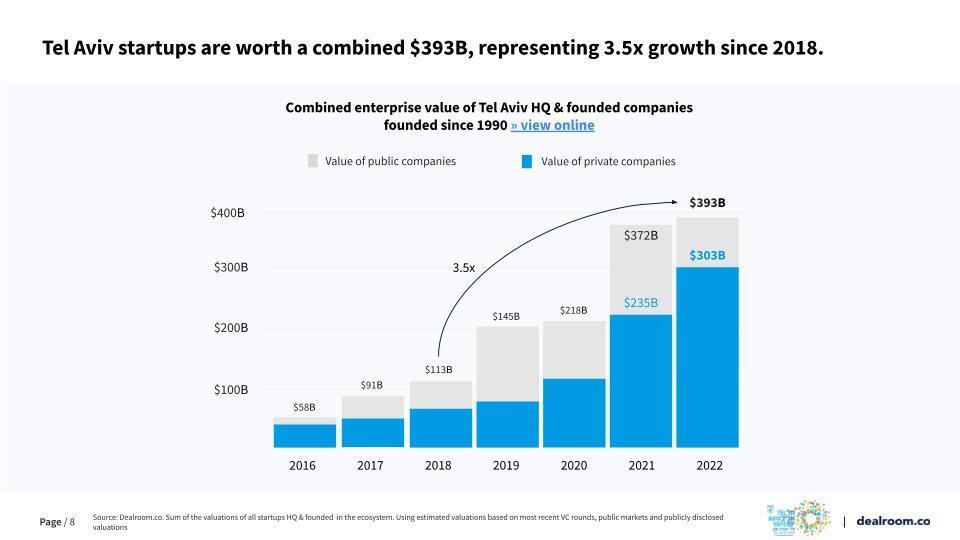 Within the EMEA region, Tel Aviv is ranked third among all cities for total venture capital investments raised in 2022. The cybersecurity industry saw the highest amount of investment last year at $1.7 billion, and accounted for 19.2% of total investments compared to the global average of 5.3%. Healthtech, among the fastest growing sectors, received 33% of overall investments.
Tel Aviv Tech is an initiative of the Municipality of Tel Aviv-Yafo. Its purpose is to advance the local tech ecosystem as an economic engine for the city and its residents. Dealroom.co is a leading data provider for startups, early-stage and growth tech companies in Europe and internationally.