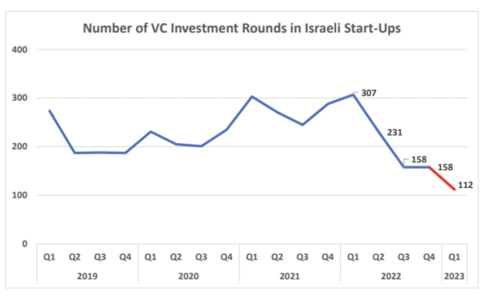 Israeli startup funding hits lowest mark in five years
Two reports conducted by the Start-Up Nation Policy Institute, and by IVC Data and Insights with LeumiTech show worrying trends for Israel's tech sector. Only $1.7 billion were invested during the first quarter of 2023 in Israeli tech companies compared to $6.7 billion in the first quarter of 2022
The first quarter of 2023 has proven to be the worst three months of funding for Israeli tech since 2018, a report conducted by the Start-Up Nation Policy Institute (SNPI) has revealed. Entitled the "
Israeli Tech Ecosystem Review
," the report covers investment during the first quarter of 2023 and public sentiment towards the tech industry in Israel.
Only $1.7 billion were invested during the first quarter of 2023 in Israeli tech companies compared to $6.7 billion in the first quarter of 2022. The figure is the lowest since 2018, with three companies receiving 40% of all investments - Wiz, eToro and Via - which together raised over $600 million. Additionally, only 112 companies raised capital in the last quarter - the lowest since 2014. The report also shows a significant decrease in the amount of investments and recruitment rounds in Israeli tech.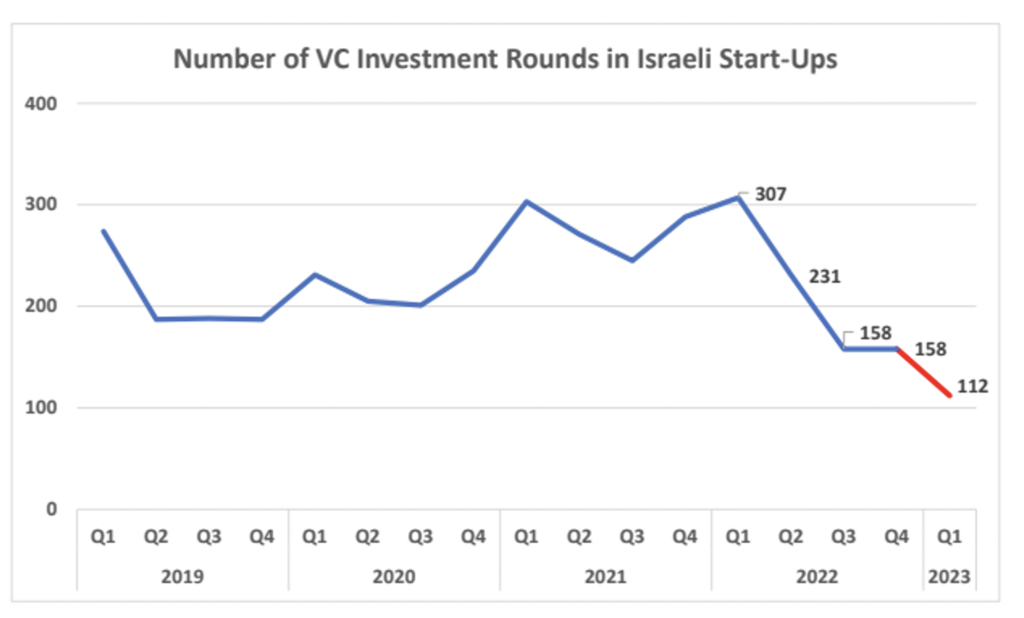 The authors of the report claim that the reasons for the decline are a combination of the global recession as well as the domestic civil unrest in Israel due to the government's judicial overhaul initiative.
Perhaps of even greater concern, the report notices a trend of personnel and companies leaving the Israeli tech sector and moving abroad. If this trend increases, the loss in both human capital and startups would seriously impact the pool of quality personnel that lead the tech sector - the most productive and profitable sector of the Israeli economy- and lead to a continued shrinking of the Israeli tech sector.
The authors of the report expressed concern that new startups established in 2022 or later will be particularly affected by the decrease in investments. As long as the global recession and the economic instability and civil unrest resulting from the judicial overhaul continue, the report predicts that these companies will have difficulty recruiting investors.
A decline in foreign investments
Meanwhile, IVC Data and Insights and LeumiTech also published a report on Sunday summarizing the first quarter of 2023 in the Israeli tech sector. In addition to confirming data from the SNPI report, this report added that early fundraising rounds amounted to $531 million in the first quarter of the year, a decrease of 62% compared to the capital raised during the first quarter of 2022. Seed investments were hit the hardest, seeing a 40% decrease in the amount of capital raised compared to the fourth quarter of 2022.
This is in part due to another trend discussed in the report - the decline in foreign investments in Israeli startups. From 2018, and in particular during the Covid-19 pandemic, international VCs have been among the most important funders for Israeli tech companies. This trend changed in 2022 with VCs moving away from deals with portfolio companies, which often require longer-term commitments and further investments, and favoring one-time investments.
According to Timor Arbel-Sadras, CEO of LeumiTech: "The year began with a significant slowdown in investments, both in terms of the volume of transactions and the number of transactions. In addition, we see that 38% of the investments in the quarter were made in a small number of companies. Clearly, investors as well as funds are still hesitant to make investments or make mergers and acquisitions. The root cause is probably the high level of uncertainty around companies' valuations in the current macroeconomic terms. We anticipate that in the second half of the year we will see higher levels of such activity, and hope that this will lead to a renewed growth in the long term."